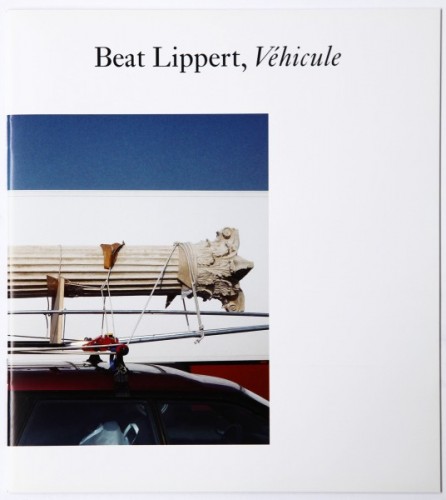 Vehicle
Vehicle 2008
Texte : Donatella Bernardi Translated in English by Deborah Fiette In
Vehicle
(
Véhicule
, 2008 – 09), Beat Lippert questions through the absurd the significance of an object or an image in a very simple and effective way : wrenching it from its context, displacing it and repositioning it. If the object he has chosen to convey his idea makes reference to antiquity and to neoclassicism, it is not a famous effigy such as the
George Washington
(a bronze copy made in 1916 after the original marble by Jean-Antoine Houdon, 1785 – 91) with which Michael Asher worked at the Art Institute of Chicago in 1979 and in 2005. On the contrary, Lippert's object is singularly anonymous : a small fluted column with Corinthian capital. Lippert has appropriated this motif as if it were the acanthus leaves of Aloïs Riegl (
Stilfragen, Grundlegungen zu einer Geschichte der Ornamentik
, 1893) : the fluted column with Corinthian capital has been omnipresent for a long time, perpetuated in an astonishing and even fascinating way. Even Houdon's
George Washington
could lean on it now that it is so much a part of American imagery, after having been the emblem of Greece and of Rome. The fluted column with Corinthian capital (with its Doric and Ionic variants) is a bit like pizza : the basic recipe remains the same but it can be prepared with different sauces and in different sizes.The column is also essentially a vertical, load-bearing component which forms part of an architectural complex. The one which caught Lippert's attention is paradoxically isolated in the middle of a large empty space scattered with ruins : the Roman Forum, one of the most visited archeological sites in the world. Lippert noticed this stone cylinder completely devoid of use – if not that of conveying what it once had been – when he went to participate in the 2007 edition of the Rifrazioni festival in Nettuno, a small seaside town an hour's train ride from the Italian capital. The performance by the playwright, Domenico Polidoro, left its mark on this festival : a 36-hour long, uninterrupted reading (from Saturday, 31 August at midnight to Sunday, 2 September at midday, Ex Divina Provvidenza, Ibis ONLUS) of
Cinders
(
Feu la Cendre
, 1987) by Jacques Derrida. "Cinder, this old, gray word, this dusty theme of humanity."
Polidoro was installed in a small, dark basement room which could have been the setting for a Tarkovsky film. What is to be done with the cinder of the cinder itself ? If Polidoro dedicated his performance to his recently departed wife, Jacques Derrida's text, whose interpretation is very difficult, seems also to evoke the cinders of the Nazi crematoriums. As for Lippert, he draws a parallel between the performance of Polidoro and the film Statues Also Die (1953) by Chris Marker and Alain Resnais :
"When people die, they enter into history ; when statues die, they enter the realm of art. This botany of death
is that which we call Culture."
Back in Geneva in his atelier in preparation for the 2008 Eternal Tour festival which was to take place in Rome (3 – 13 July), Lippert constructed his fluted column with Corinthian capital. This object of hollowed out polyester resin was soon turned horizontally, attached to the roof of the Subaru of the Forde association (contemporary art, Usine) in order to cross the Alps. The column was displayed in the garden of the Swiss Institute in Rome, a perfect decorative element in accord with the eclectic taste for antiquity, for the past, of the Villa Maraini. It was exhibited in conjunction with its prosthesis. This light metal component permitted its removal a few days later to Nettuno for the 2008 edition of the Rifrazioni festival, with the aid of Lippert's muscular strength, towed behind his bicycle through the outskirts of Rome to the sea.
If the artist contemplates the Mediterranean horizon with it behind him, the column still returned northwards a few months later for the exhibition in the Salle Crosnier of the Palais de l'Athénée. This edifice seems to be the ideal showcase for this vehicle ; the hegemony that it affirms appearing difficult to reduce to cinders.